We not only promise to deliver a beautiful lawn and landscaping, but that you will never have to worry about clean-up. We leave every site immaculate.
Our Services Include: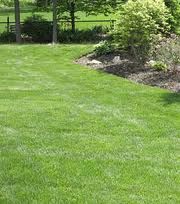 Free Estimates
No two projects are the same. We don't believe in one price fits all, because we won't skimp on your service. We provide accurate, realistic, and reasonable estimates.



Lawn Maintenance
Will maintain your lawn all year long.
Fertilizing
We use only the finest fertilizers to achieve beautiful results.


Flower Beds and Gardens
We install colorful flower beds, using creative designs. We can design beautiful gardens including rock beds.


Clean Up
Hate raking leaves or hauling debris? Leave it to us. Reasonable rates!


Bush Trimming
We will leave your bushes looking beautiful and designed just how you like.


Gutter Cleaning
Don't hassle with trying to clean your gutters. It can be frustrating, time consuming, and dangerous. We will do it for you, and do a great job.



Pressure Washing
We pressure wash your deck and seal or stain it to revive its look.